​
Ever wonder why & how Yoga works? Modern Psychology has some of the science to explain the ancient wisdom Yoga has been saying for years.
​
In this class, we will connect the dots between key Yoga philosophy topics and what recent research in the west has discovered.
​
Understand the science behind mindbody health and the integration of ancient wisdom and modern psychology.
​
Designed for you - Yoga Teachers, Behavioral Health Providers, and Movement Specialists Interested in How the Mind-Body Works Together to Create our Wellness.
​
Walk away with some key tips to bring to your classes, clients and patients.
​
Like how to read posture and behaviors to give your students / patients what they really need to create a shift physically and mentally.
​
If you are a Yoga teacher, mental health provider or practitioner in the health and wellness world asking the question of WHY behind the transformative practice of Yoga ... then this class is for you.
​
​Join us this two-weekend education intensive.
​
Nothing is more powerful than coming together with intention. Join a like-minded community of yoga teachers, mental health practitioners, and movement specialists to dive into your personal yoga practice and the study of yoga through the lens of modern psychology.
---
Now get excited!
Over this 35 hour intensive course we will cover:
​
A deep dive into the nervous system. How it's structures are impacted by mental health presentations, movement, & yoga techniques

Understanding what breath work practices, physical movement options, yoga asanas & other yoga techniques to give when working with differing mental health states ie: depression, anxiety, ADHD, & trauma presentations

How to read & understand posture and behavior from your students and patients. Understand what yoga practices to give and when.

How to sequence & add movement to your clinical practice and classes for various psychological states

A deep dive into the Yoga Sutras of Patanjali overlaid with modern science & research

Gunas, polyvagal theory & mental health states

Consciousness, the four parts of chitta, & the links between thought and movement

Yuga cycles & understanding ourselves/experience in current time and space

Koshas & the different layers of self

The Wheel of Karma & how our thoughts, emotions, and actions impact our experience of self, other, & your world/environment

Samskara & trauma

Klesha & psychological afflictions

Cultivating/Coaching change using the science on behavior change

How to hold space & how to meet your student/client where they are by understanding the 5 states of attention & caliber of student

The 8 limbs & how they relate to everyday life

Teaching Asana with support to bring Yoga Asana to all - Learn proper prop use
​
---
I'm sure you are wondering ... "what does this program cost"?
​
During our time over 2 weekend immersion classes we will discuss the items listed above and you'll walk away with new learning (see CE learning objectives below).
​
You'll have the opportunity to ask questions and deepen your own study in an interactive style between weekends.
​
Over the course, you'll have exercises, handouts, and access to Dr. Stacy & Sarah to discuss how the material is changing you, working in your practice, and impacting your students / clients.
​
AND ... we'll answer questions, offering other tidbits of information, and expand on information brought up during the lectures and asana practices.
​
PLUS ... 35 Yoga Alliance CEUs!
​
You get all of this for $815.00
​
However, Get Early Bird Pricing of $749.95 through September 15, 2022!
​
​
---
Register by September 15th for $749.95 Early Bird Pricing!
Payment Plans Available Upon Request- Contact Sarah Klein- [email protected]​
​
The 2022 Course Dates:
​
Weekend 1 - October 15-16, 2022
Weekend 2 - October 22-23, 2022
​
Weekend Schedule:
​
7-8:30 AM Led Practice
Break
10:45 AM-5 PM Course Work
​
Saturday and Sunday are full days of diving into science and yoga texts through lecture, experiential practice, asana, meditation, mind-heart journaling, chanting, Q&A sessions, and group discussion.
​
Both weekends are hosted at Yogadurango in Beautiful Durango, Colorado, USA​
---
​
CE Learning Objectives for This Immersion:
​
List at least 3 ways yoga tenants support wellness behavior change

Describe 3 key overarching themes between yoga and psychological science and how to apply to treatment planning

Identify at least 3 interventions from psychology that can be applied with personal training clients and in the yoga studio class and at least 3 concepts from yoga science that can be applied in psychology treatment

Utilize yoga and psychological paradigms of human behavior and human connection to support rapport building in the psychology treatment room and trainer/teacher - student relationship

Assess client / student readiness for behavior change and apply appropriate interventions for client / student success

Discuss how physiology and psychology overlap and physical experience may present in various psychological diagnoses

Demonstrate safe, effective, and appropriate movement intervention planning and implantation to support clients and students according to client ability, cultural considerations, and scope of practice guidelines

Apply effective yoga asana to assist mental health treatment which support evidence based psychological treatment modalities

Explain why certain movement patterns help relieve psychological symptoms

Identify ethical concerns and outline scope of practice when using movement as a psychology intervention and when using psychology as a personal trainer, yoga teacher, or group exercise instructor.
​
---
Why pay us to teach you? Because together we have over 30 years of combined Yoga study and teaching experience.
​
We have spent a long time building our understanding of these concepts and have applied them to our lives and 1,000s of students and clients in our own practices.
​
We know reaching students is an art and it takes knowledge to know how to say, explain, and present just the right bit of information at the right time to make an impact.
​
We both believe Yoga and Psychology teachings are important for our world and you are part of the solution to creating a better future for us all.
​
*Minimum registrations required to run course.
​
---
Here's a bit of information on both of us:
​
​Dr. Stacy Reuille P.H.D, LAC, CPFT, CNC - Dupont holds a PhD in Somatic and Clinical Psychology, a Master's degree in Community Counseling, and a Bachelor's Degree in Kinesiology. She has worked for nearly 3 decades exploring the overlapping areas of physiology and psychology. She applies this knowledge to interventions designed to treat the whole person as they present for psychological treatment. She blends exercise science with psychology to address psychological presentations and helps clients reclaim their somatic experience to live a full and vibrant life. She is currently a licensed clinical psychologist, licensed addiction counselor, certified personal trainer, certified nutrition coach, and formerly a group exercise instructor, yoga teacher, and fitness center owner. She has over 25 years of experience working in the fitness and wellness industry and over a decade working in traditional mental health clinics, integrated care environments, and building a successful private psychology practice at her integrative clinic Studio B.
​
​Sarah Klein, is the director of the Ashtanga-Inspired, Yoga Alliance, Yoga school and owner of Whole Health Lab. She finds her Yoga home in the Ashtanga Lineage. She is moved by the devotion this practice requires and its innate ability to create a moving, breathing, meditation through its direct and clear nature. Sarah has over a decade and a half of Yoga teaching. She is the founder & director of the Ashtanga-Inspired YA certified Yoga School. Teaching to learn, Sarah takes pride in annually continuing her formal studies with her primary teachers Bhavani Maki, Annie Pace and Larry Schultz (deceased) since 2008.
Sarah effortlessly weaves Sutra through her asana classes and continuously invites students to look deeper into themselves through the wisdom of the practice. Sarah is an Ashtangi at heart, guiding students with the precision that is rooted in tradition, but not averse to pulling out the yoga chair and taking creative liberty to meet students where they are. Sarah's love and devotion for Yoga shine through her charismatic and effervescent personality.
​
​
​
---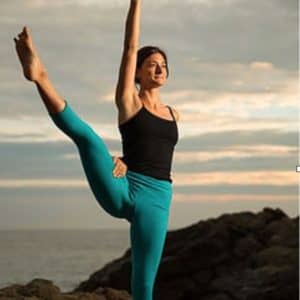 Are you a part of our email list? If not join now. We are developing more workshops on the integration of Yoga and Psychology you won't want to miss.