Below are courses and programs I teach throughout the year. Please contact me if you have any questions or would like to make a suggestion about a course you'd like to take.
---
Dealing with Depression. A 7-Day Online Course using Psychology, Fitness, and Nutrition to Heal.
This 7-Day course teaches skills to deal with depression. Using a variety of treatment modalities we work on shifting your mindset and developing healthy behaviors for self-regulation, increased daily success, and creating a life to live for.
This program is designed with you in mind. When dealing with depression it can be hard to get motivated to do anything. So we've put together easy activities to get you out of bed and focused on your day. Then we regroup in the evening to review today and plan for tomorrow. Each day has a focus, meditation, movement practice, and meal plan designed with depression management in mind, the latest research on depression regulation, and cultivated from my years in psychology practice working with depression.
Join Us to Create a Life You Want and learn what holds you back from achieving it. Learn More …
Purchase Your Slot in our Next Class: $49.95
---
The Integration of Yoga and Psychology. Wisdom Informs, Science Explains
Ever wonder why & how Yoga works? Modern Psychology has some of the science to explain the ancient wisdom Yoga has been saying for years.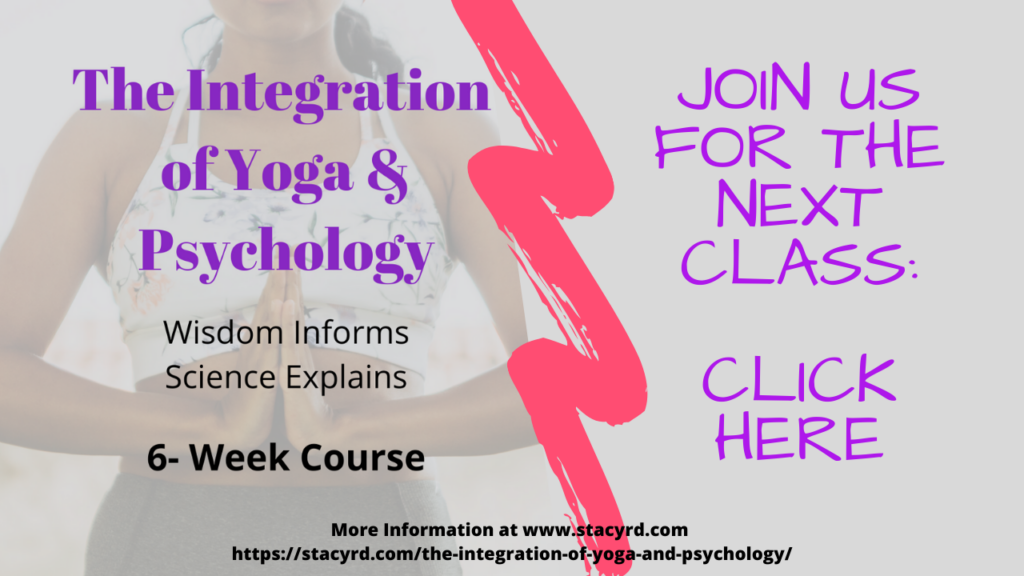 In this class, we will connect the dots between key Yoga philosophy topics and what recent research in the west has discovered. Understand the science behind mindbody health and the integration of ancient wisdom and modern psychology.
Designed for you – Yoga teachers and mental health providers – walk away with some key tips to bring to your classes, clients and patients. Like how to read posture and behaviors to give your students / patients what they really need to create a shift. If you are a Yoga teacher, mental health provider or practitioner in the health and wellness world asking the question of WHY behind the transformative practice of Yoga … then this class is for you.
Find out When the Next Class Begins:
---