To Live a Life You Love?
Be Greater Today. Welcome to the place where we create the purposeful life you want. I love blending psychology, movement, and great food to help people feel grounded and capable of creating the life they want. help people truly discover fitness in their lives and magnetically attract feelings of power, competence, spaciousness, and passion in the process.
When you are purposefully creating with playfulness and expansive focus, you are on a courageous adventure that allows you to attract your best life to you.
Fitness is magnetic and it brings us to a higher level of living. To truly discover fitness in your life you have to move beyond just your body and engage your psychology.
Choose to take your life to the next level. I take the job of creating the life you want seriously. Working out isn't just about improving physicality – we are also developing emotional intelligence and mental skill to help you create the life you want, face the challenges presented to you, and surpass your wildest dreams when it comes to your health. Fitness is a feeling.
Exceed your goals by working with me where we create a personalized mental map to reach your goals, design personalized workout plans, and use your bio-individuality to develop your eating habits. We'll move beyond past challenges to create a future self you can be proud of.
---
Inspiration and Life Hacks Delivered to You
Feeling like you could use some inspiration to stay motivated to create your best life possible and be strong in your psychology and physiology?
Then sign up for my email list. Get my latest posts and special offers delivered right to your inbox to help you stay on your path and maintain focus on your prize – a balanced, creative, motivated, and powerful YOU.
I know email can get overwhelming. I hate it when I spend more time deleting things rather than reading what I really want to see. I promise not to spam you. I respect your privacy. You can unsubscribe at any time.
---
Find Your Strength
Much of my daily inspiration comes from people I work with everyday. People can do amazing things. Especially when they feel good about themselves and they feel strong. When they feel full, connected, and vibrant amazing things happen.

​I often see people who are selling themselves short with a list of excuses – "I don't have time, I have children, I've always been overweight, I can't do this, I don't deserve", "Why put in the effort I am just going to fail again", " – the list goes on.
I believe that list can change and excuses can become challenges and challenges can be conquered. I love seeing people accomplish their goals. They are tenacious, tough, receptive, and purposeful on our path to finding the aligned self.
It has been my experience that people know what they need to do. They have their answers, even if they don't know it yet. Sometimes we all need help getting where we want to go.
---
---
The Questions I Hear In My Office …
How can I turn my body into something I am proud of rather than ashamed of?
Will I be able to do be successful this time or will I fail again?
I feel like my body has betrayed me, how can I listen to it if I can't trust it?
How do I reclaim my vibrancy, effervescence, my joy while still living my life?
How can I find fun? I have so many have-tos, need-tos but not a lot of want-to. It gets overwhelming when I think about it. How can I stay motivated when I feel so overwhelmed with my life?
What are the steps I need to take to become more full and healthy at a pace that makes sense to me?
How can I take responsibility for my health?
Exercise doesn't feel like fun. I have to make myself do it. How will I be able to stick to it if it is another chore on my list?
Can someone help me grow and become healthier in my mind and body?
Can you help me find better coping skills to relieve my pain?
I want clarity, how can I figure out what I am supposed to do?
What do I need to know to understand the changes I need to make?
How do I make these changes successfully?
I know what I need to do but I can't figure out how to stay consistent. Will you make me a plan and daily routine?
The Big Problem … Feeling Balanced.
I want you to feel vibrant and alive, courageous and worthy, full of amazement and wonder.
I help people take back their lives and heal physical, emotional, mental, and spiritual aspects of being.
I give you the tools you need to live a magnetic life, drawing to you the things you want, creating your highest most incredible life.
I want you to feel strong, balanced, cherished, blissful, and creative every day. You feel this way because you have a inner power of magnetism that helps you find complete joy in being you, just as you are.
We are not looking for what is wrong, we are looking for what makes you powerful. Your emotions are your dynamic super powers to get the life you want and feel alive.
Are you ready to feel vibrant and purposeful?
Are you ready to take back your life and regain your power over your health and wellbeing?
Ready to find your strength and personal super powers?
Join our community of likeminded people building lives they are excited to be living.
We Learn:
To understand how our mental and physical body regulates as a team.
About toxins, exercise and mind, food and mood, gut health, healthy relationships, nutrition and exercise programming to reach your goals, and effective communication patterns.
How to drop judgment and criticism. We learn to accept ourselves.
We Examine:
Ineffective coping skills you've been using to manage your life.
We'll take an honest and tolerant look at your life and determine what has been working, what hasn't.
Then build on what's worked, let go how what hasn't.
We look at at the past not to find what is wrong, but to see our next step.
We Design:
Life on purpose.
We build clarity for your vision.
Living a life by your values, building purpose and meaning into your everyday activities.
We'll develop new beliefs that can lead you to new healthy behaviors.
We develop and create new habits, routines, and plans to help you make them reality.
We Live:
Embodied, full, excited, passionate, and capable.
We are warriors focused on engaging our most powerful selves.
We know ourselves well, listen to our intuition, let our body guide our delight and our mind remain limitless and flexible.
We are lit up with all that life has to offer and it shows.
We live free.
Join My Monthly Psychology & Physiology Group Coaching Call
The Discovery Sessions
If you are looking for ways to feel creative, inspired, and adventurous building a live you love, Then Join Us.
Subscribe to The Discovery Sessions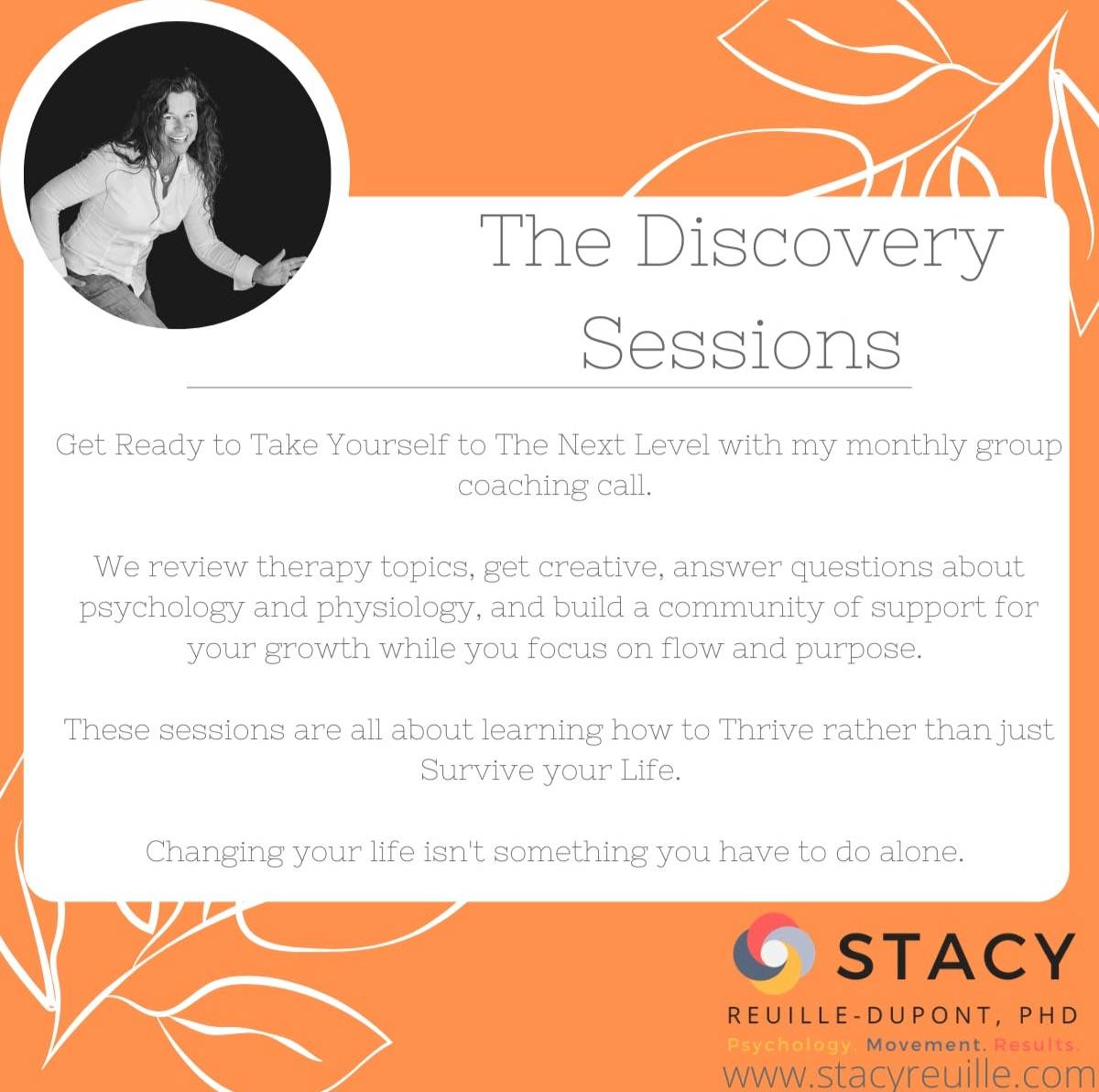 My psychology clients continually ask me to write things down for them, create worksheets and templates they can use outside of session.
In The Discovery Sessions subscribers get to take advantage of my years of experience and service helping people build a strong, healthy, and balanced life during our monthly discussions.
In these sessions we review common therapy topics, discuss how psychology and physiology are related, look at ways you can create a satisfied and grateful life of balance and ease.
For just $29.99 per month subscribers have access to my experience, training and eduction through the question and answer segment each month. Plus a supportive community of others working to live intentionally too.
What I Do
I blend psychology with physical exercise for whole-person healing and utilize non-medical (Somatic, Behavioral, Cognitive, Social) approaches to mental and physical health issues. My goal for you is to feel more grounded, empowered and inspired to live your life motivated and balanced everyday.
Often, I work with people looking to make a change, who need help adhering to a new, healthier behavior, want a physical program to compliment mental health treatment, or are looking to take their fitness performance to the next level.
Through analysis of your current behaviors, we can incorporate changes that support the life you want to lead, not the one you were handed. To do this, we set concrete goals, develop strategies to reach those goals and establish timelines to track your progress.
Why I Do What I Do
My mission is to help you see the beauty that lies within. I want you to be inspired everyday. I work to help you feel balanced in your daily life, allowing you to become the best version of yourself.
By healing past wounds we embrace the core of who we are and who we want to be. Using a variety of modalities, I work to help you feel aligned on your personal journey.
This work allows you to take control of your life, empowering you to be fearless as you embrace your path. No matter what you are dealing with, there is always an option – out or around it.
My Vision
My passion is helping you achieve your desired life, on your terms. I am inspired by the people I meet everyday.

I am inspired by people who take action to create the life they want to live. I believe people have the power to accomplish their dreams. They overcome odds, fears, and make positive changes in their lives. They are creating their dreams.

Life gets in the way, other people's voices (doctors, parents, siblings, friends, significants) all have opinions and sometimes those opinions don't meld with us, and sometimes we just can't get where we want to go alone.
And that is why I am here. I am here to support my clients as they create magnetic lives for themselves.
In the end, isn't that what life is all about?
---
Next Steps
Contact me today and take the first step toward health, wellness, healing old wounds, and becoming the best you can be.
---
Featured On & In