Many of us want to stay fit but as the economy becomes tighter we are beginning to question how we can. Check out these ideas so you don't let your fitness slide along with the stock markets.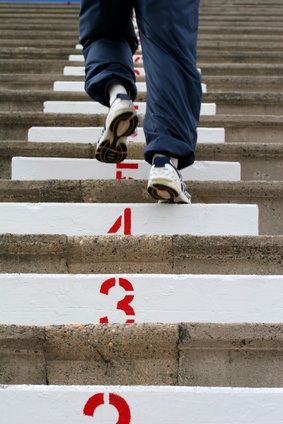 Exercise doesn't have to be expensive. Truly all you need to move is you. Exercise can be accomplished using things you find in your everyday life. Are you looking ideas to keep working out but need something a little less posh? Try these out.
Use your body weight – push-ups, squats, pull-ups and all their variations can add overload without any fancy equipment.
Look in your pantry. Canned food and gallon jugs can effectively add resistance similar to a hand weight. Empty milk (or other liquid) jugs can be refilled to your needed weight so you can add more as you get stronger.
Use broom handles and a couple of chairs to create a modified pull up bar. This will allow you to lift only what you can rather than your whole body as in a traditional pull-up. In addition couches, chairs, ottomans can become "benches" for better range of motion.
Look for stairs around your house – they don't have to be "real" stairs. Stools, rocks, stumps, etc all count if you have to step up to get on them. *safety note: you don't want to be stepping too high – no more than 18 inches is plenty or so your knee and hip are perpendicular to the ground.
Kids are good for something! If they are small use them as weight – backpacks, strollers, and simple play can help you build your muscles. If they are older let them lead you in a fun game of tag or obstacle courses they love being the leaders. Teens may be willing to take a healthy lifestyle challenge with you with the bonus of building a closer relationship.
Invest simply in fitness equipment – rubber tubing, hand/ankle/wrist weights, a step, a ball, etc are versatile and inexpensive pieces that give a bit gain for little cost. The trick on equipment is – IT DOESN'T MATTER HOW CHEAP IT WAS IF YOU DON'T USE IT!
There are many ways you can continue fitness on the cheap. The trick is to get creative, think outside the box, and make sure you are being safe. As always discuss your new fitness routine with your healthcare person and remember to have a great time!
If you decided to build a home gym, comment below and tell us what you decided to use? What was your essential must have piece of equipment (it's ok if that's a milk jug!)
Like this article – read more: Try planning home workouts or Cardio Workouts Indoors for more ideas on working out at home.