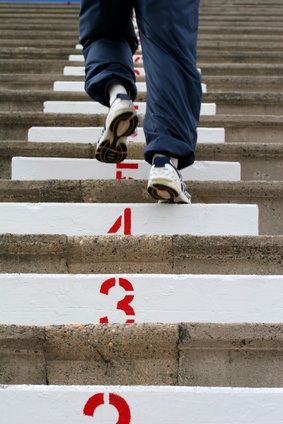 Check out the last blog post to review what endurance is then add it to your routines. To add endurance into your regular fitness routine begin by increasing distance, time, or intensity. Each can be added into your cardio routine.
A sample cardio program may look like this:
3-5 min warm-up
1 min walk
2 min run
1 min walk
2 min run
1 min walk
2.5 min run
1 min walk
2.5 min run
1 min walk
2 min run
1 min walk
2 min walk
1 min run
3-5 min warm-up
Continue to add 1:2 min intervals as you add time to your workout
Or
Make the run portion longer in each interval
Eventually, you'll increase the run time and decrease the recovery time until the entire workout is a run. Then begin to add walking intervals at the end to bring the total workout time closer to 45min.
Over time you'll find that you can go longer and faster. Maybe you want to walk on your own from the car to the building, or you'd like to chase your children through the park, maybe you want to swim, walk, or run, maybe you just want to enjoy this beautiful thing we call life. Endurance will get you there.
As always – don't forget to talk with your health care professional before beginning any workout program.