I am not a great cook, I'm good when I want to be, but honestly my mind is usually somewhere else and following recipes is really, really hard for me. Any distraction – 3 kids, the dog, a friend, a flower – and boom, we are having "blackened" food again … usually without the Cajan part. So I started making my food simple. Really simple. I wanted healthy and easy.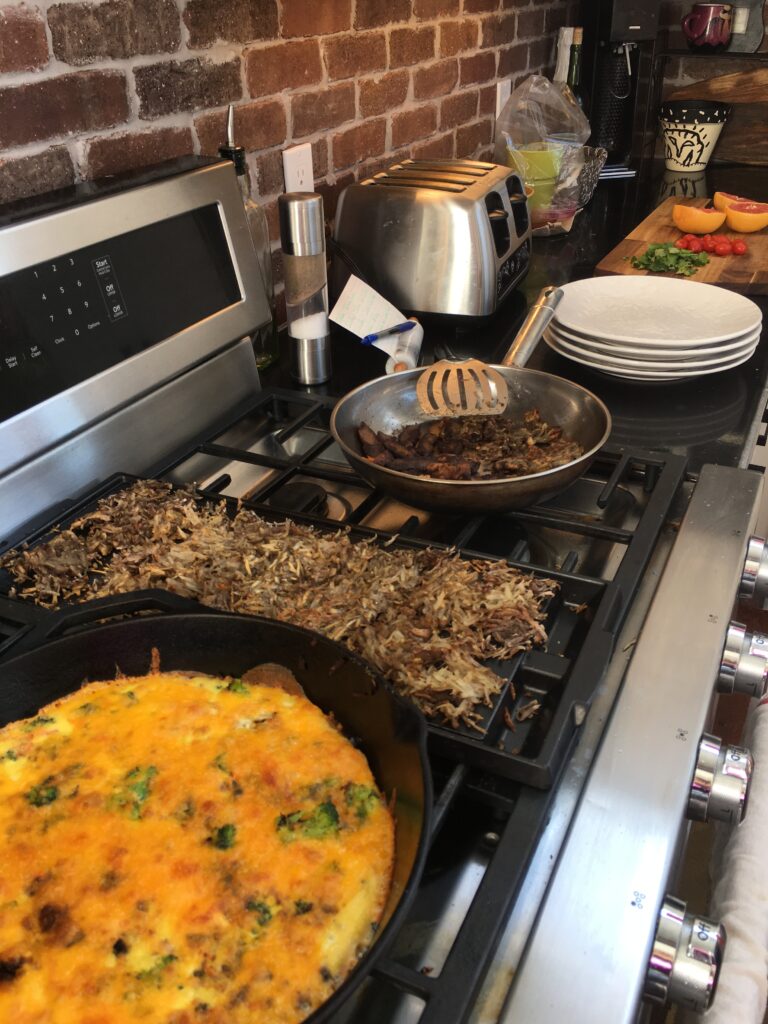 Ingredients:
Butter or other cooking oil – olive or avocado oil works well here – enough to cover the bottom of your pan
Onion
Garlic
Scrambled Eggs – 6 to 12 depending on the number of people eating and how big your pan is.

optional: Milk or half and half for scrambling

Broccoli – 1-2 crowns
Shredded Carrots – 3-4 large
Garnish Items – if you want:
Shredded cheddar cheese – enough to cover the top of the fritta.

Amount will depend on personal preference and size of the pan.

Sliced grapes tomatoes, pico de Gallo, or salsa
Cilantro
Avocado
The Cooking Part …
Preheat oven to 350 degrees.
In an oven safe pan, melt the butter in the pan over the stovetop.
While it melts dice the onions and garlic.
Sauté the onion and garlic in the butter.
Chop the broccoli into small pieces, eliminating the hard parts of the stems, and shred the carrots.

Amount of carrots and broccoli will depend on your preference and how many eggs / people you are feeding.
You want enough to have the fritta feel hearty but not so much that it drowns out the egg.

Add broccoli and carrots to the butter, onion, and garlic.
Cook on medium to low heat until the onion is transparent and the broccoli and carrots are soft, but not withered looking. About 5-10 minutes.
Scramble the eggs and pour over the mixture and cook until the egg sets up.
Transfer pan to the oven until the egg is cooked through. The top begins to set.
Add cheese if you want and return to the oven. Place on high broil for 5 minutes to melt the cheese
Top with the tomatoes, cilantro, and avocado
What to serve with …
All sorts of breakfast foods – toast & jam, fried potatoes or hash browns, fruit, breakfast salad, juice, coffee, tea.
This meal will keep in the fridge, it is also great as a left over for lunch the next day or you can freeze and reheat as needed for future breakfast meals.